This is a list of our classic and modern style lacquerwares. We put our efforts in to searching for new materials, techniques, and ideas that match with the current trends and designs of today. We hope you will find lacquerware that suits your life style.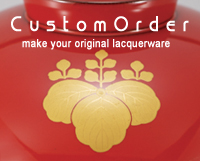 Custom order is also available at Echizen Urushi. We can create your specific lacquered item or paint your name or logo on our ready-made lacquerware. For your reference, we have some examples for you.


We have worked together with some industries to create products where urushi lacquer adds extra value with its rich and classic appearance. We are interested in finding other industries to create new products. Here is an example.